If you haven't heard of this conference, some are calling it "SaaStr Lite." I got to attend thanks to friend Carey Ransom inviting me to join him in speaking at this event, and I don't think that's a fair comparison. it's a really cool conference all on its own! With two days of programming, including the Pre-Conference Workshop and the main event on May 1, we found loads of takeaways. Read on to see what we learned.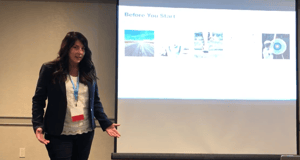 Our session, "Marketing Your Startup Through its Lifecycle" was well attended, and we had lots of great questions from the audience. You can watch the session or download the slides if you're interested.
Overall I'd sum up the conference proceedings in these 3 themes, with the lion's share on the first two:
Fundraising
Growth
Customer Success
Fundraising
There were numerous startups at the conference looking for money, and plenty of sessions to help them. Here are some key takeaways if you're out fundraising. Assuming you get meetings (overwhelmingly the advice here was get an introduction through your network), you'll want to be prepared.
Research the investors

I was shocked at how many investors shared that entrepreneurs were unprepared for their meeting. They emphasized that you should understand:
The firm's thesis - what kinds of companies they invest in and why
The person(s) you'll be meeting with - know them inside and out. Their backgrounds, interests, expertise, shoe size if you can. Don't skimp here!
Understand if this is a firm you want to work with for a long time. This may be harder to research up front, but minimally interview them in your meeting to see if there's a fit.
Be Prepared and Know Your Business (especially the metrics)
There was a lot of emphasis on the metrics for obvious reasons. While investors acknowledged you may not have everything to the penny, you should use reasonable, defensible assumptions when necessary, not wildly pie in the sky numbers. "It should be believable" was my favorite quote.
It's all alphabet soup, but be sure you know and can rattle off the key metrics mentioned by every speaker:
CAC - Customer Acquisition Cost
ARR - Annual Recurring Revenue
MRR - Monthly Recurring Revenue
ACV - Annual Contract Value
LTV - Lifetime Value
What Investors are Looking For
These items were almost verbatim from three different speakers, so I would pay special attention to:
A well rounded team. Fill your gaps with co-founders. Single-founder companies are looked at as likely to have gaps.
Humility. You don't know everything and don't pretend you do.
Be coachable. Investors have a lot to bring to the table and they want to make sure you're listening.
Don't lie. I was absolutely STUNNED to hear stories of entrepreneurs saying they had POs from big companies and didn't. This is an obvious no-no but seriously, who does that??? You know they can find out, right?? Yikes. that one really threw me being mentioned multiple times.
Be flexible. Be open to pivots, be open to the idea that you may have to make big changes and be ruthless if you have to downscale.
Growth
Obviously growth is going to be a hot topic at a conference like this. There were numerous sessions on growth tactics, (ours included) and good news/bad news, there were no silver bullets. It's good news because the speakers mostly emphasized the same things we do.
To summarize Jason Fishman's 7 Acquisition Strategies That are Working Now
Have a detailed and "algorithmic" strategy

Break down every paid and organic channel into funnel

Develop and define content funnel

Develop press influencer and group relationship early

Test, optimize, scale

Try data driven paid (e.g. programmatic exchange)

Retargeting 7-17 touches
I also really liked the stages of growth analogy presented by Brian Mac Mahon:
Viking- You take the hill in a rickety boat
Gladiator- Everyone has a job and process
Knights of the Round Table - You've replicated yourself, know the plan.
Customer Success
Keys to growth include monetizing current customers and reducing churn. There were a number of mentions of strategies here, but among my favorites that summarized it all is "Enable continuous customer success." They mean it's not just on-boarding, it's lifecycle management.

Map and document recurring customer journey and share it throughout your org

Have programs and pricing prepared for Initiating a customer, upgrade, add-on

Build a Customer product pathway
Another favorite quote was: *Don't let customers feel the front office/back office gap." That's a personal pet peeve for me, when a team member says "that's not my department." Customers should not even KNOW that you HAVE another department! So work on these handoffs until it's invisible to the customer

In Summary
There was a lot more, but you should see it for yourself next year. I'd like to thank Peter Cowan and Nancy Hammerman for putting on such a great event, I highly recommend it!
download the slides from our session here.