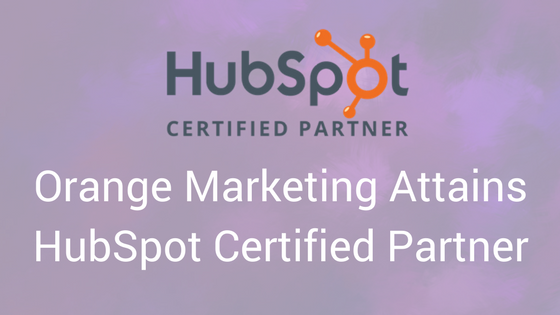 Newport Beach, CA, April 17, 2018
Today Orange Marketing announced that it has become a Certified Agency Partner with HubSpot, the world's leading inbound marketing and sales platform. Certified Agency Partners have proven their expertise with HubSpot's marketing automation software, which incorporates integrated tools for search engine optimization, blogging, lead generation, customer relationship management, sales enablement, marketing analytics and more.
Over the past year, Orange Marketing has grown its business by incorporating inbound strategies to help companies attract visitors, convert visitors into leads and nurture leads into sales.
Of the announcement, Orange Marketing's Founder and Agency Principal Rebecca Gonzalez responded, "At Orange Marketing, we are proud to be a certified HubSpot partner. HubSpot is the best marketing software in the business for B2B companies, especially those in startup mode, selling SaaS services, which is an Orange Marketing focus."
Says, Kelsey Galarza, Orange Marketing Sales VP, "HubSpot is simply the most efficient and effective marketing software suite for B2B and is far superior to hooking together a bunch of marketing products to accomplish what HubSpot does from one simple, easy-to-use interface. HubSpot saves times and money, and delivers results."
To learn more about Orange Marketing, visit www.OrangeMarketing.com. To learn more about HubSpot, visit www.HubSpot.com.
About Orange Marketing
Orange Marketing specializes in HubSpot implementations for B2B SaaS companies — beginning with understanding your customers and identifying segments you didn't know you have, setting up your website conversion paths for these segments/personas to begin generating leads right away and then the complete HubSpot technical implementation.
For more information about Orange Marketing please visit www.OrangeMarketing.com or contact OrangeMarketing.
About HubSpot
HubSpot (HUBS) is the world's leading inbound marketing and sales platform. Since 2006, HubSpot has been on a mission to make the world more inbound. Today, over 15,000 customers in more than 90 countries use HubSpot's software, services and support to transform the way they attract, engage and delight customers. HubSpot's inbound marketing software, ranked #1 in customer satisfaction by VentureBeat and G2Crowd, includes social media publishing and monitoring, blogging, SEO, website content management, email marketing, marketing automation, and reporting and analytics, all in one integrated platform. HubSpot is headquartered in Cambridge, MA with offices in Dublin, Ireland, Sydney, Australia, and Portsmouth, NH. Learn more at ww.HubSpot.com.