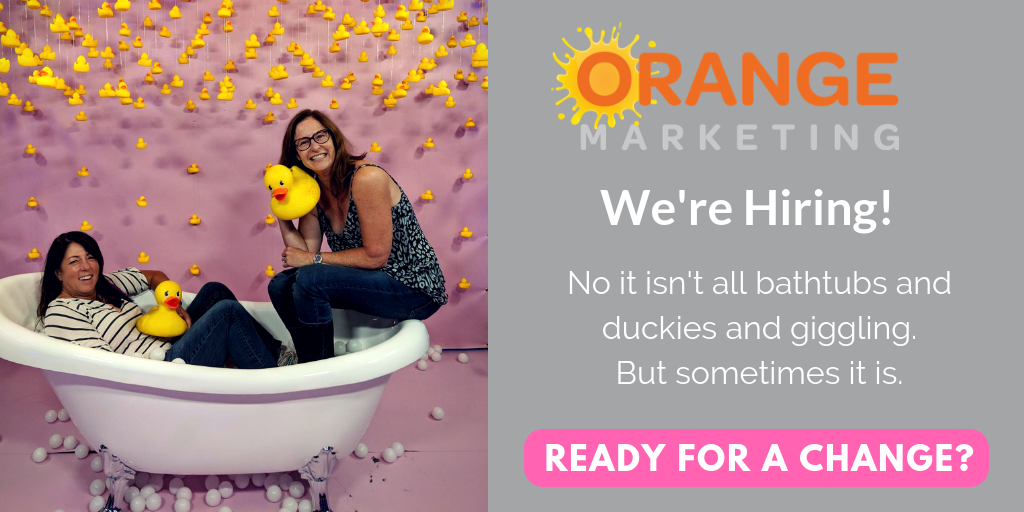 Hey duckies!
We have a great new problem - growth!
Orange Marketing is growing rapidly and Kelsey and Rebecca need you! What are we looking for? Here are some key characteristics:
You are a born and bred marketer. Email, social, blogs, a little bit of advertising are no big deal to you. Pick your poison. You are ready to dig in.

You like to work remotely in spite of the hairy dog under foot problem. And the pesky children coming home from school problem. Can't live with them, etc. etc.

You are interested in B2B companies, particularly SaaS (software as a service). You just have to be interested, we'll do the rest (don't be scared).

You have experience utilizing a marketing automation and/or CRM system. If your tool of choice is HubSpot, so much the better. If not, we'll train you. You get social. You aren't afraid of SEO, blogs and Canva. You understand what we just said.

You have 15+ to 40 hours a week to give.

You are okay with flexible hours, meaning its fine to do your work at night and on weekends, but you have availability during the day for Client meetings (we can schedule around children's schedules).

You are a life long learner and love training opportunities.

You enjoy digging in and getting things done. But appreciate support and guidance.

If you are a writer, a graphic design hobbyist, or like to play with code, we dig it! A plus!
Want to learn more about our open position?
Read about Marketing Consultant

Amanda Berger

and why she works with Orange Marketing.

Do you have a friend, relative or colleague that you think would be perfect for us?
We HEART referrals! A fancy dinner is on us!
Check out our About Us section on our website. Call us to discuss +1 (323) 435-1718.